WS-1037 Premium Grade METAL BAND ESD Wrist Strap
With PATENTED Non Static Generating Cord Assembly
American Made and Built to Last!
The Guaranteed LOWEST Price in the Nation on the WS-1037
Now Only $13.99 each! Click HERE to Buy Online!
Find one at a lower price? Let us know and receive a free static control gift!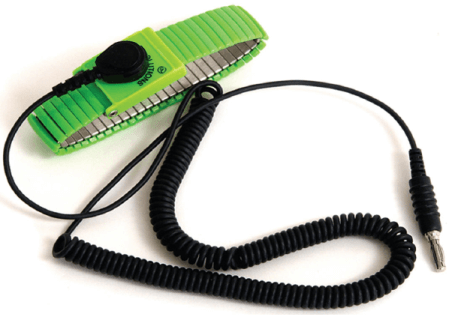 The Static Solutions Ohm-Stat WS-1037 is a premium grade metal band esd wrist strap. It's smooth operating expansion links provide a comfortable non pinch fit. Available in small, medium and large with a quick disconnect buckle for easy deployment. These straps are perfect for mission critical static control protection and are clean room compatible due to the non flaking permanently molded dissipative plastic used throughout the exposed outer layers of the strap. Florescent Green or Blue white Colors.
The internal metal links are made of premium medical grade stainless steel and provide hypoallergenic protection from allergic reactions. The WS-1037 is provided with a tight fitting 10 mm ground snap to eliminate errant disconnects of the strap to the ground cords for premium reliability. The ground cords will stretch to a comfortable 10 and are coated with a non static generating insulator that is deigned for heavy duty failsafe usage. Compare to premium metal band esd wrist straps from the high overhead big boys that start at well over
$30.00 each! Proudly made in the USA
PREMIUM PROTECTION

Non flaking molded dissipative plastic on all external surfaces

Protects users and static-sensitive devices from electrical hazards

Outperforms ESD S 1.1 Standards-1987

Superior Contact with Skin

Clean room Safe: No chipping paint or fraying of fabric

Patent buckle and cord: Unique design for snug fit

Patent #6,426,859 B1

No-Pinch Design

Comfortable: adjustable – one size fits all

Long Lasting: Will outlast and outperform the competition

High Grade Buckle Medical Grade Stainless Steel: Non Allergenic!

Will last a lifetime

Fluorescent green or blue white color

No Tedlar on surface

Band, buckle and cord are antistatic-no problems will occur when it comes close to static sensitive devices.
Click HERE to Download Data Sheet.
Associated Products

ESD Hand Lotion: Environmental conditions reduce the static conductivity of your skin. Insure successful hand to heel strap or wrist strap electrical continuity. Wrist straps pass with ease, heel straps no longer fail! Keep those hands baby soft and baby conductive (note: no babies were harmed in our testing)! RoHS and clean room compliant. Paraben free, no colorants nor perfumes. $5.22 each or a case for 24 for just $124.99


ESD Constant Monitors: Test your wrist strap every second of the working day. Alarms if strap or contact with the user becomes compromised. Eliminates testing manually and entering results in a log.


Common Point ESD Mat Ground Cords: Ground wrist strap and esd matting to a single location. Best price in the Nation $5.25 ea.


ESD Wrist Strap Tester: Economical, easy to use and easy to comprehend. Now just $129 each with 3 years worth of free recalibrations.

Also available as a wall mount wrist AND heel strap tester.
Click Here to Contact UNITED Static Control Products
This site is protected by copyright and trademark laws under US and International law.
United Static Control Products Incorporated
© 1993-2016 All rights Reserved
ESD flooring, Mats, Chemicals, ESD Ionizers, and Expertise
09/19/2017