PN SI-108 Dual
Dual Wire ESD Wrist Strap and Coil Cord Assembly
Click Here for more information and pricing on this esd wrist strap assembly
Download this document as a pdf file
United's SI-108 Dual Conductor Wrist Strap Assembly is designed to interface with dual wire, resistance style constant monitors. The wrist strap is easily adjustable, lays flat on the technician's wrist (for optimum performance) and is manufactured from a highly robust, easy care polyester fabric suffused with silver nitride conductive threads for 360 degree conductivity.
Where Dual Wire ESD Wrist Straps are used:
It's EASY to generate a static charge. Static electricity is often generated by the contact and separation of the technician's clothes against their skin or their shoes contacting and separating against flooring as they walk. When static discharges to something of a lower electrical resistance it can devastate micro electronics, munitions and more. A person's skin is moderately conductive allowing the static charge to flow around the human body but to eliminate this charge the skin needs to be continually grounded.
To monitor the grounding efficiency of the skin many clients use a resistance style constant monitor. Many constant monitors rely on a dual path of conductivity. A very small electrical charge is sent through one ground path, across the users skin and is measured for the appropriate resistance via the second conductive pathway and the constant monitor. Should this resistance become compromised the alarm feature of the monitor alerts the technician immediately.
Our ESD SI-108 Dual Wrist Strap feature a conductive strap that makes 360 degree contact with the user's wrist while our heavy duty wrist strap coil cord and hardware insures the static charge is grounded in a fast, efficient and RELIABLE manor.
FEATURES
Dual wire design perfect for use with dual wire monitors.

Heavy Duty braided dual wire ground cord.

Dual contact plate technology for redundant grounding of technician.

360 degree contact of conductive strap to technician's wrist.

Popular side adjustable buckle for easy deployment.

Right angle heavy duty mono plug and strain relief prevents cord damage.

5 Foot cord standard, 10 foot cord available as an option.

Dual 4 mm cord snaps provide ultimate security for a problem free connection to strap reducing disconnects and providing the most secure ground connection of any dual wire strap on the market.
PN SI-108 DUAL ESD WRIST STRAP AND GROUND CORD DRAWING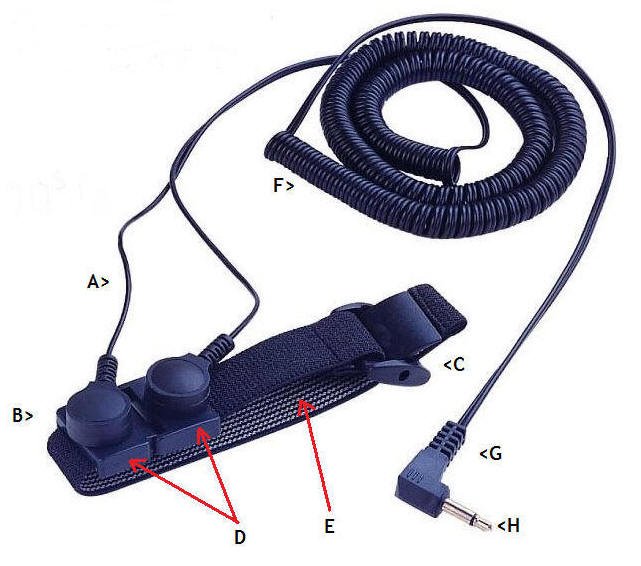 A: Dual wire internally braided ground cords.
B: Dual 4mm female ground wire socket snaps on 4mm male strap fastener.
C: Heavy Duty side mount tension adjustment buckle.
D: Dual covered steel plates provide redundant contact with users wrist..
E: Conductive (<1k ohm) elastic wrist strap band.
F: High flex / high conductivity tensile wound inside core, black insulation, 5 or 10 foot coil cord.
G: Superior resistor connection strain relief and molded right angle plug.
H: 1/8 standard phono jack, .540 inch long.
PN SI-108 DUAL ESD WRIST STRAP AND GROUND CORD SPECIFICATIONS
Compliant to: ESDA S1.1, EIA 625, MIL-STD-1686, MIL-HDBK-263, ANSI ESD S-20.20-2014
Wrist band fabric: Elastic Polyester with conductive threads.
Cuff Resistance Interior: <500 ohms typical (static conductive)
Cuff Resistance Exterior: >1.0E08 typical (static dissipative)
Strap Color: Black
Snap: 4 mm with dual contacts
Dual contact plates: stainless steel.
Coil cord length: 5' standard, 10 foot optional (comfortable stretch).
Cord color: Black
Resistor: 1 megohm
Flex life: 300,000
Ground plug: 1/8" mono (two conductor) 90 degree, with strain relief
Contact UNITED Static Control Products Inc
© All rights Reserved