UNITED
Static Control Products
< Back | Live Chat | Telephone 719 676 3928
Interlocking ESD Tiles Over Standard VCT
NO Tear Out of Old Flooring Saves Money and is Environmentally Responsible!
United just completed an ESD Flooring Install for Insight Photonic Solutions in Lafayette, Colorado. Insight creates the worlds best Akinetic Swept Lasers for outstanding Optical Coherence Tomography (OCT) imaging, helping save lives and improve the quality of Health Care.
ESD Interlocking Tile Installation

Tools Needed? A Dead Blow Hammer, L Square, Tile Roller and Tape Measure! That's it!
This installation was unique as the client had brand new standard tiles currently installed, was only planning on being in the (leased) facility for two years, didn't want any adhesive odors, wanted the "old" floor to look new when they moved and wanted to take the new ESD floor with them!
Mission critical ESD control was a MUST! And, choosing United to professionally install, test and certify the ESD floors gave them the added security of knowing we would achieve our deadlines with no headaches and NO surprises!
Our new ElectraLock ESD Interlocking Tiles were PERFECT for their needs. After the wall base was removed the "old" flooring was shop vacuumed and swept with a soft bristle broom. That it! The preparation was complete!
We started in the center of each room and built the structure out in each direction. Using a dead blow hammer we started the precision cut interlocking teeth and proceeded to roll the tiles with a 100 pound vinyl roller. This securely locked each tile in place. As the back of Each ElectraLock Tile has a full surface static conductive backing grounding the ESD Floors were a breeze! The finished install looked . . .
Seamless!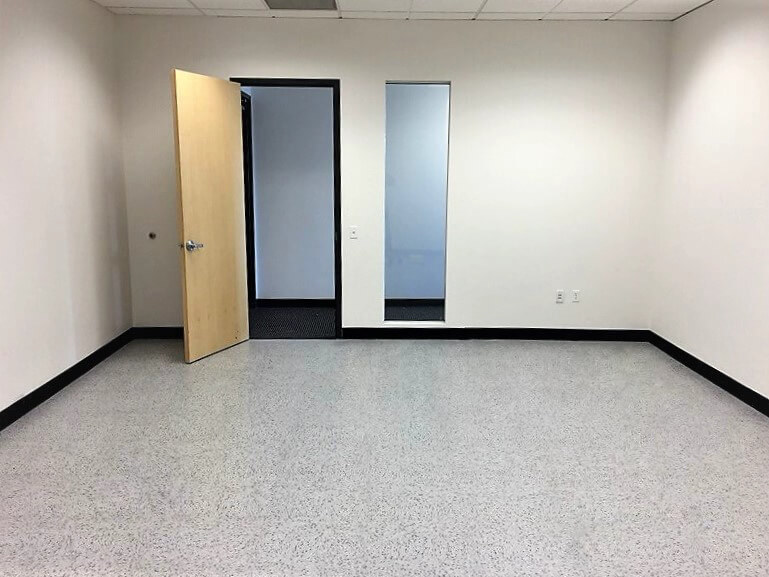 Install Tested and Certified ESD Flooring from United TAMES the Static Beast!
(before it takes another byte)
Contact United Static Control Products
Tame the Static Beast Before it Takes another Byte!
© 1996 - 2019 All rights Reserved
This page published or checked for accuracy on 11/04/2019