ELECTRAGUARD ESD EPOXY WEAR RESISTANCE
Mission Critical Conductive Floor Paint Wear Study
Click Here for the ElectraGuard Main Page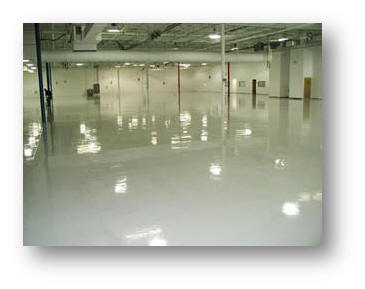 Quantum Storage Devices of Colorado Springs, CO began an evaluation of various esd flooring options in 2004 as a replacement for their static dissipative esd rubber flooring that was failing due to vapor emissions from the concrete. In addition to a higher electrical conductivity, Quantum's needs dictated a flooring material that was economical, easy to clean and could handle rolling loads without mechanical failure (the original esd flooring was static dissipative esd rubber and failed in this respect).
Their choice: ElectraGuard Epoxy ESD Floor Paint (3 coats) top coated with two thin coats of ElectraThane / ElectraSeal followed by one thin coat of ElectraGlaze sacrificial esd floor Finish. Prior to using the system in the entire 172,000 sf area the product's were thoroughly evaluated for wear using the following study. The following data documents long term wear performance of The ElectraGuard Tri-Layer System.
Testing location Forklift Warehouse Portal.
Typical traffic:
Fully loaded Industrial Fork Lifts.
Estimated weight of fork lifts (fully loaded) 2,300 pounds
Estimated trips over test area per day: 237
NOTE: Click icons to expand photos. Use the back button on your browser to return to this page.

09/12/04. Preparation of the concrete slab was intentionally kept to a minimum. The oil and grease from the heavy forklift traffic was removed via a light damp mopping of the concrete with ElectraClean esd floor cleaner diluted with water. The dirty solution was mopped up with dry paper towels and the concrete substrate was allowed to dry 2 hours prior to application of the ElectraGuard ESD floor Paint. Masking tape was applied to the substrate. The ElectraGuard base was catalyzed, mixed and applied in 3 thin coats to the concrete substrate allowing approximately 3 hours between coats. The following day, United SCP applied two thin coat of ElectraThane / ElectraSeal followed by 1 thin coat of ElectraGlaze sacrificial esd floor finish with (30 minutes of drying time were allowed between each coat). Electrical testing was performed utilizing ANSI ESD S 7.1 parameters with results as follows: Resistance to Ground 5.31E05, Resistance point to point; 6.38E05 @ 23% rH and 68.7 deg F.

07/13/05. Typical traffic for this area is intense. This photo is representative of the type of forklift traffic encountered by the test area over 200 times per day. After a year of service the test area was dirty but well bonded and the sealers were still firmly bonded to the ElectraGuard Epoxy. The test area posted excellent conductivity per ANSI ESD S7.1 at <1.0E06 @ 23%rH and 68 degrees and is easy to clean using ElectraClean.

08/12/06. The ElectraGlaze floor finish (the top coat) has worn off of the ElectraThane. The ElectraThane sealers are well bonded and are providing gloss and protection to the Epoxy Paint. The ElectraGuard is well bonded to the concrete. The tests area is providing excellent conductivity of <1.0E06 @ 33%rH and 68 degrees.

11/20/07. The 2 thin coats of ElectraSeal sealer is now showing very slight signs of wear but they are still well bonded and are providing excellent protection to the epoxy. The ElectraGuard Epoxy panels are well bonded and intact. The panels are providing excellent conductivity (<1.0E06).

10/09/08. The ElectraSeal coats are intact but are worn from approximately 50% of the epoxy. The panels are intact and well bonded. The panels (even in this dirty condition) are providing a resistance point to point (averaged) of 1.35E06.

10/14/09. The ElectraThane / ElectraSeal sealers are totally worn from the epoxy. The panels are still well bonded and are showing very limited wear of the ElectraGuard epoxy floor paint coating. The point to point conductivity (in this extremely dirty condition) measures <5.59E06 on average. The esd epoxy paint is showing no signs of flaking, breaking or de-lamination. The ElectraGuard has now acquired a shiny patina type look from the wear. Two 2 small sections of the concrete have now broken free due to concrete spalling. It is important to note that (other than an occasional sweeping) this section of the substrate receives no floor care maintenance and is not routinely auto scrubbed. Standard floor maintenance procedures (such as a routine auto scrubbing) will surely lengthen the life span of the sealers and floor paint.
UPDATE 01/03/11: Due to Quantum receiving T. S. A. Security Clearance for finished product, photos of this area are no longer allowed.
UPDATE 03/15/16: As of March 15th 2016 said test panels are still intact, well bonded and are providing an electrical resistance of <3.5E07. The manufacturing operations for this portion of Quantum moved overseas about 1.5 years ago. The ElectraGuard flooring throughout the entire facility has held up well and is still in use today by various clients that lease portions of the original facility.
PN: EG-1, EG-CASE, EG-5, ElectraGuard ESD Epoxy Floor Paint

United Static Control Products Inc

Approved: SRC

DOCUMENT NUMBER

NA / Internal and Approved

DATE:

January 2011
reviewed for accuracy 10/16/2021, Tech Services
*