Click HERE for the ElectraTough Main Page!
ElectraTough Grounding Methods
Grounding Covered Raised Access flooring: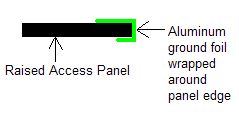 If your ElectraTough modular system is being installed on top of steel or aluminum topped grounded raised access flooring read no further, ElectraTough is conductive throughout the entire thickness of the material. The unique ElectraTough System will ground through the existing grounded metal panels. If your raised access panels are NOT metal topped, simply place a Strip of our aluminum foil tape (adhesive side down;) so 3 or 4 inches is on the top surface of the (raised) panel with foil wrapping around the edge and to the underside of panel. Place ElectraTough on top of the panel and tape, all electrostatic potential will flow to the grounded panel base. Note: ElectraTough is fully conductive and makes GREAT electrical connection when interlocked. As such, only one grounded panel is required every 200 square feet.
---
Grounding wall to wall ElectraTough coverings: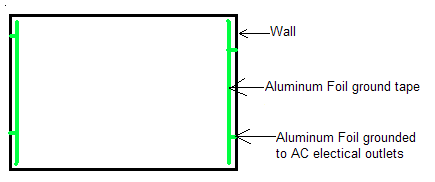 If your ElectraTough esd floor mat system will be installed wall to wall simply run aluminum foil grounding tape parallel on two opposing walls. "T" off of full length strips in locations convenient to AC electrical outlets. Remove AC (plastic) face plate cover. Run strip up wall to start of cut out for electrical box.

Replace plastic AC electrical face plate cover with metal face plate cover making sure strip contacts cover. You are ready to overlay aluminum strips with ElectraTough panels. As all ElectraTough tiles are conductive and feature excellent electrical contact between tiles, grounding even 1 tile per 200 square feet will insure the conductivity of the entire floor.
---
Grounding stand alone ElectraTough "Islands" without cords.

---
Grounding stand alone ElectraTough "Islands" with cords.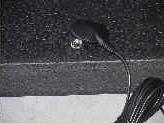 Our 115 AS Floor mats ground cords may be used with the 301 AS esd floor mats. United SCP ground cords are easy to install using our screw on ground terminal kits (p n 159 AS) Place small hole in matting material (a hole punch works best). Place fastener through mat and screw on appropriate (male) grounding snap lug. Attach ground cord to lug, attach ground cord ring terminal to electrical ground (the center screw of AC electrical face plate cover works well).
CONTACT UNITED STATIC CONTROL PRODUCTS!
© 1996 - 2020 All rights Reserved