.
UltraSpray
Anti Static Spray / Stops Static on Contact!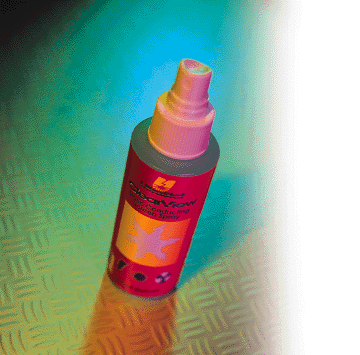 All antistatic sprays are NOT created Equal! UltraSpray features the strongest commercially available anti stats on the market. A quick spray of the mist renders static laden plastics and glass surfaces static dissipative (electrically semi conductive). Immediate Results, long lasting and easy to apply. It's concentrated anti stats provide an electrical conductivity range that is PERFECT for allowing the static to spread and evenly disperse. For use on static laden plastics, glass, carpeting and more.
Immediate static control!

Non flammable, cost effective and long lasting!

Biodegradable and environmentally friendly!

Protects sophisticated electronics!

Stops static cling on contact!

Available in convenient 4 ounce bottle.
TECHNICAL INFORMATION:
UltraSpray is a static dissipative spray that is designed to render hard surfaces and many soft surfaces such as carpet static free. UltraSpray is the strongest commercially available anti static spray on the market with a surface resistivity of slightly below 1.0E09. UltraSpray is an environmentally friendly proprietary quaternary and resin mixture. With a neutral pH, no free ammonia, alkali, acids or abrasives. UltraSpray may be removed with repeated washings of water or other commercially available solvents and degreasers. UltraSpray may slightly smear on glass but can be polished with a lint free cloth to remove smears. Re application may be required and discrete pretesting of substrate is always recommended.
MORE INFORMATION: UltraSpray by United SCP! Simply spray directly on problem area with light sweeping motion, allow to dry and static electricity becomes a thing of the past! Multi Purpose, longest lasting and most conductive anti-static spray on the market today! UltraSpray works GREAT with our unique FST and ClearView static elimination systems.
Suggested Retail Price $19.95
Shopping Cart Special of the MONTH Price: $9.99
CONTACT United STATIC CONTROL PRODUCTS!
United Static Control Products
P.O.B. 19252, 4878 Lake View Circle
Colorado City, CO 81019
United States of America
Phone: 719 676 3928 Fax: 719 676 3929
24/7 Tech Support (customers only)
719 676 3928 (option 8)
Major Credit Cards Accepted
ESD Flooring, Mats, Chemicals, ESD Ionizers, and Expertise
United SCP Tames the Static Beast BEFORE it Takes Another Byte
This page last updated on
09/18/2013