At UNITED We're all About Static Control in Concert with Value, Quality, Reliability and Expertise!
From anti-static for the Pentagon to ESD Floors for the US Navy in Saudi. Static Control Products for Intel, Google, NASA, Microsoft, Ingram, Tyco, HP, Boeing, Lockheed, Northrop, Flextronics, Dell and Millions More select United SCP for one reason and one reason Only! To Tame the Static Beast Before it Takes another Byte!
United SCP! Professional Top Shelf ESD flooring installations and World Class Certifications. U.S.A. Canada and Mexico!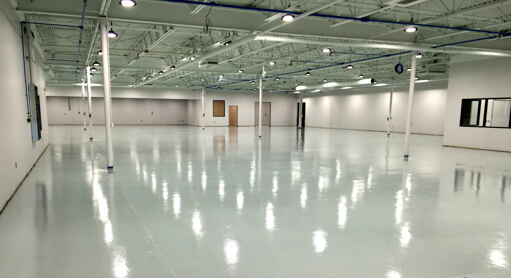 Installation by United SCP (expand photo)
ElectraGuard ESD Epoxy, Long Lasting static control PROTECTION perfect for Electronic Manufacturing, 3D Printing and Energetics at a cost of about $1.25 per square foot for materials!
---
Value, Quality, Reliability
Shop where smart buyers have shopped since 1994! Save your esd program a substantial amount of money and get the high quality, service and performance you deserve from a reliable supplier with outstanding products and a proven track record.
New Tech Document: ESD Flooring for 3D Printing of Metal
New ESD Floor Mats: MEETS DoD 4145.26-M
Award Winning Tech Support
Whether your ESD program is just starting out or you're a client that has been around the block OUR team of experts is here to help. Questions on the new 2017 standards? Give us a call. How do I eliminate static from my car seats? Give us a jingle. ESD Flooring Certifications? Call us! Enjoy free 24/7 tech support for all flooring products.
Contact United Static Control Products!
Tame the Static Beast Before it Takes another Byte!
© 1996 - 2017 All rights Reserved
This page last Updated on
06/20/2017