REUSABLE CONTAINER ESD WARNING LABELS IN ORANGE
BuyThese ESD Warning Stickers On Line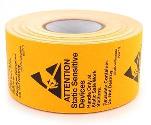 Reusable Container! Attention Static Sensitive Devices!
EsD Warning labels.
Available Size: 1.75 wide x 2.5 length
Orange with bold black print, JEDC-14 (hand) symbol and marked with REUSABLE CONTAINER. DO NOT DESTROY. These pressure sensitive permanent labels are designed to call immediate attention to items that are susceptible to damage from an electrostatic discharge and inform personnel that the containers, totes, bins, boxes or bags holding the esd sensitive item is a reusable item. The labels are coated for added durability and resistance to moisture and fully conform to the new ANSI ESD S20.20 requirements.
Large Photo

Clear and concise, outstanding visibility!

Warns of static susceptibility!

Marks container as reusable!

Coated for resistance to grease, oils, water and many chemicals!

Fully compliant to latest ANSI ESD standards!

Lead free and RoHS compliant!

Perfect for marking static sensitive items in electronic manufacturing and other static sensitive environments!
MATERIAL: 60# semi gloss litho.
ADHESIVE: B-82
LINER:40 # R L.
RESISTANCE to water, oil and many chemicals: Excellent
WIDTH: 1.75 inch
LENGTH: 2.5 inch
| | | | | |
| --- | --- | --- | --- | --- |
| Part Number | Size | Qty per Roll | Price | |
| B6713 | 1.75" x 2.5" | 500 | $17.32 | Buy Online |
CONTACT UNITED STATIC CONTROL PRODUCTS!
United Static Control Products
P.O.B. 19252, 4878 Lake View Circle
Colorado City, CO 81019
United States of America
Phone: 719 676 3928 Fax: 719 676 3929
Major Credit Cards Accepted
This site is protected by Copyright and Trademark laws
under US and International law. © 1993-2016 All rights Reserved
ESD Flooring, Mats, Chemicals, ESD Ionizers, and Expertise
United SCP Tames the Static Beast BEFORE it Takes Another Byte
This page last Updated on
12/06/2016