ElectraFlow® SL-001
Full Size / High Output Bench Top ESD Ionizer for Static Control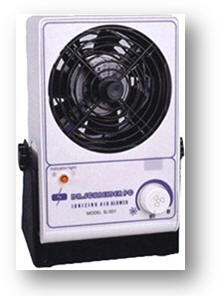 The minute you open the box you'll appreciate the attention to detail and quality built into each of our HEAVY DUTY SL-001's. This isn't one of the cheap knock offs that are flooding the market in the U.S.A. This is the REAL THING!
THIS SL-001HD version is used by major companies worldwide and considered the industrial workhorse of esd bench top ionizers. A horse you can depend on for long term satisfaction, reliability and performance! Made in Germany, the SL-001's are perfect for use as a stand alone esd ionizer on a table top or work bench and can also be conveniently mounted under esd workstation shelving or used as an overhead ionizer. The SL-001 features a filtered, high output air delivery system in concert with a circular arrangement of 12 tungsten emitter points to provide an intense alternating electric field of powerful (yet balanced) ion generation.
These units feature a super heavy duty power supply, wiring and emitter points! Our Heavy Duty SL-001's are so robust we provide them with and a full TWO Year Warranty!
With a typical emitter point life of 4 years (and easy to change if needed) you may ask yourself why would I pay for a similar ionizer with an emitter change cartridge for $625.00 (nearly twice the cost of our SL-001's). Compare our product to the high overhead big boys. They make a great unit and so do we. Call United SCP, save your esd program a substantial amount of money and get the same high quality and performance you demand from a reliable supplier with a great product and a proven track record.

Powerful! High performance output, an outstanding value!

Patented balanced ion output, no calibration required!

Patented emitter point cleaner, Tungsten long life emitters.

Filtered air and Ion generation indicator lamp.

Adjustable high output multi speed fan

Certificate of compliance at no charge with each unit.

+/- 10 volt offset voltage balance! No calibration required.

Perfect for bench top, overhead or shelf mount.

Heavy duty mounting bracket included at no charge!

Aluminum alloy housing, powder coated ANTI STATIC finish.

CE Certified, TWO Year Warranty! Built to last a lifetime! The SL-001 meets or exceeds the recommended technical requirements of ANSI/ESD S 20.20- 2014 tested in accordance with STM3.1.
$499.95 Each
Special of the Month!
Now Just $413.99 and Free Shipping (Continental USA Only and details apply)

Specifications:
| | |
| --- | --- |
| Operating Voltage | 110V/60Hz standard, 220V/50Hz optional |
| Current Consumption | Max. 0.25 Amp (high fan). Min. 0.12 Amp (low fan). |
| Operating Temperature | 32o F. - 122o F. (0 ~50°c) |
| Air Coverage | 16" x 24" (40cm x 60cm) |
| Air Volume | 45~110CFM |
| Size (including stand) | 3.54" (L) x 10.24" (H) x 6.69 (W)" (90mm x 260mm x 170mm) |
| Weight | 6.61 Lbs (3kg) |
| Finish and casing material | Antistatic powder coated aluminum alloy |
Decay Test Results
Testing Condition
Operating Voltage: 110V/220V, Testing Voltage: 1kV to 100V, Temperature: 22°c
Distance
300mm
600mm
900mm
Decay time
positive
1.2s
2.4s
4.0s
negative
1.2s
2.5s
3.9s
Offset voltage
positive
8v
5v
4v
negative
7v
6v
3v
Note the following are overviews, please see manual (included with product) for full details.
Installation Overview:
The SL-001 features an attached heavy duty adjustable metal stand with a non marring, non slip base. The SL-001 may be simply placed on work bench, bolted to the underside of a work bench shelve or attached to overhead supports as follows. Attachment to overhead supports: Mounting to ceilings and shelves; S hooks and chains may be used for mounting the ionizer to structurally sound ceilings or wire shelves. Chains and mounting hardware should have a minimum safe working load of at least 30 pounds. When mounting the unit to ceilings it's important to check state and local codes to insure compliance. The units are typically hung in the same fashion as overhead light fixtures (independently attached to overhead building superstructure). Attaching to suspended ceilings only are typically not compliant with local codes. Mounting to workbench overhead supports; The SL-001 may be bolted to work bench overhead beams using the adjustable mounting stand included with your order.
Electrical Requirements: The SL-001 requires 110VAC /60Hz (standard) or 220VAC / 50Hz (optional) power. These units must be grounded. The instrument is equipped with a 3 prong grounded US male plug (standard). Do not modify the plug or use an ungrounded 3 prong receptacle. If an extension cord is required use heavy gauge fully grounded cords only.
Operating Procedure: Activate the SL-001 overhead ionizing blower by turning fan speed knob clockwise. The ionization indicator will illuminate and indicate the presence of ionized air. Airflow speed can easily be adjusted utilizing the fan speed knob. The time required to neutralize electrostatic potential is dependent on distance of ionizer to work surface and speed of fan. When used in electronic assembly the ionized air stream should cover as much of the working area as possible. The constant flow of ionized air prevents items from developing an electrostatic potential.
Routine Maintenance Overview: Clean emitters as needed. To clean ion emitter points press and turn point cleaner knob (located in middle of air outlet) clockwise approximately one turn and release. Clean air inlet and outlets as needed with a soft brush or vacuum. Replace filter as needed. Periodically test ion output as indicated by your internal esd program or ANSI/ESD S 20.20-2014, TR53, Air Ionizer Compliance Verification (discharge time and offset voltage). Offset voltages of >+/- 50 volts or decay rates that exceed user defined times may indicate the need for a replacement of emitters. Normal emitter life is 4 plus years, replacement emitters are easy to install and available from United SCP.
Contact United Static Control Products
United SCP Tames the Static Beast BEFORE it Takes Another Byte ®
© All rights Reserved
*