EconoStat ESD Bench Top Matting
Anti-Static ESD Table Top Matting, Excellent Static Charge Decay Characteristics. Perfect for use when working with high voltage power supplies. Excellent for packaging areas. Mat Kits and Full Rolls. Available in gray or blue
Full Rolls Shipped FREE in the Continental USA! New! Common point ground cord included at NO CHARGE with antistatic bench top mat kits made from this material!
United SCP's EconoStat is a homogenous (solid) vinyl that has been rendered static dissipative with the addition of a hygroscopic additive that absorbs ambient humidity. Thus imparting the matting with static conductivity in the high static dissipative range of electrical resistance.
EconoStat is an extremely clean material that is FOD free. Its robust composition makes it an excellent choice for packaging items in a protected status (e.g. in static safe bags).
This products higher electrical resistance values provide excellent static control in concert with added safety when working with high voltage power supplies. EconoStat is a perfect choice for home offices as well as many industrial static control applications.
EconoStat is not meant for use with ESD constant monitors as it does not contain a carbon backing or internally conductive inner scrim yet the static dissipative properties are excellent! In this testing we have charged a wary technician to a negative 1,547 volts! Although this seems like a lot of static, in reality, this is not a high enough voltage to feel the static discharge (but it is easily high enough to damage static sensitive components).
These are the results when a person comes into contact with the mat: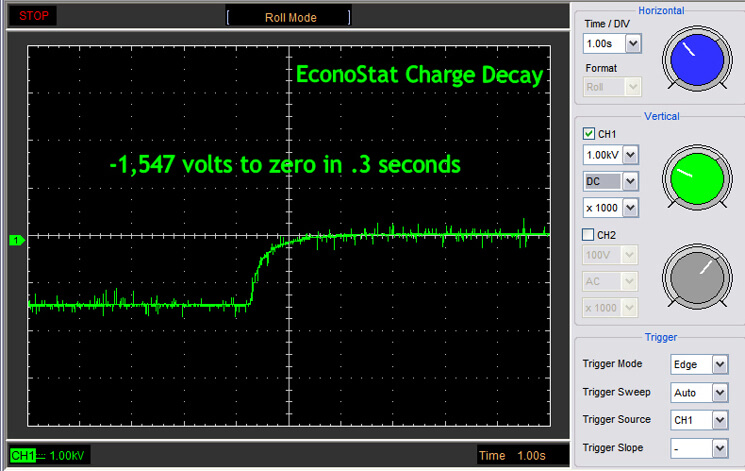 PHYSICAL PROPERTIES:

THICKNESS: .060 (1/16 of an inch)

COLORS: Sky Blue of Dove Gray

AVAILABILITY: 2, 30 inch, 3 and 4 foot widths. Full Rolls and Custom Cuts

ELECTRICAL PROPERTIES:

PTP PER ANSI/ESD STM4.1-2017: >1.0E06 <1.0E10 @ 38% rH

RTG

PER ANSI/ESD STM4.1-2017: >1.0E06 <1.0E10 @ 38% rH

PART NUMBER:

166-AS

Distribution cut sheet (pdf download)
CUSTOM CUT SIZES & PRICING:

Available in Gray or Blue

2' x 2'

$29.80

Call for Quantity Discounts!

Click here to purchase, use the drop down to select your size

New!

Common Point Ground Cord now included with Each Custom Cut Mat made from this material!

2' x 3'

$42.20

2' x 4'

$54.60

2' x 5'

$67.00

2' x 6'

$79.40

2' x 7'

$91.80

2' x 8'

$104.20

30" x 2'

$36.00

30" x 3'

$51.50

30" x 4'

$67.00

30" x 5'

$82.50

30" x 6'

$98.00

30" x 7'

$113.50

30" x 8'

$129.00

3' x 3'

$60.80

3' x 4'

$79.40

3' x 5'

$98.00

3' x 6

$116.60

3' x 7'

$135.20

3' x 8'

$153.80
Sales Associates:
Old school precut calculator
*Terms and conditions of free shipping program
Contact United Static Control Products
Tame the Static Beast Before it Takes another Byte!
© 1996 - 2022 All rights Reserved
This page last Updated on
05/10/2022