ElectraFlow
ESD Ionizers for Static Control
High Power ESD

Ionizers for Static Control and Dust Free Manufacturing!

It's no secret! Items and objects charged with even a minute amount of static electricity attract and hold dust and contaminants (just like the screen of that old school television set you may have at home;) In many cases these contaminants can be briefly removed with a standard compressed air stream only to reattach a few minutes later. Thorough, long term dust removal requires reducing static from "the object" prior to removal with the compressed air stream. Our ionizing air curtains eliminate static from the object allowing the built in high volume air stream to thoroughly remove contaminants for long term dust free packaging and manufacturing. Static generation (often a by product of many manufacturing operations) can also cause a multitude of problems from interrupted pellet flow to annoying static discharges to personnel. ElectraFlow air curtains can be used to eliminate static electricity from ANY charged object! Outstanding high volume, high efficiency and low maintenance. Perfect for a multitude of uses including final packaging and assembly, slitting, web applications and any source of static generation. ElectraFlow: Tames the Static Beast Before it Takes Another Byte! Note: all ionizers meet or exceed stringent specifications as listed below and are fully warranted. Like all ionizers built by any Company they are a non returnable item. Please choose your selection carefully.
---
ElectraFlow HDSL-041 High Volume ESD Ionizing Air Curtain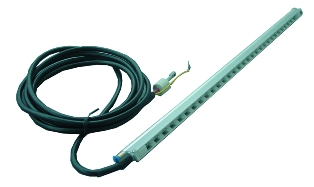 Our HDSL-041 high velocity air curtain works with compressed air for superior targeted removal of contaminants including dust and dirt. This unit features focused air streams. Perfect for finishing applications, packaging, food and beverage manufacturing and printing applications. Available in lengths up to 1,300 mm (700 mm standard). Includes our HDSL-009 Power supply. Click here for more details. Click Here to buy online
ElectraFlow SL-041 High Volume Air Curtain with Tightly Focused ionized air stream.
SPECIAL OF THE MONTH
Price: $638.22 (includes HDSL-009 power supply) and FREE SHIPPING!

---
ElectraFlow HDSL-040 ESD / Contaminant Control Air Bar

The HDSL-040 Ionizing Air Bar is a versatile solution to demanding esd and contamination control requirements. This unit features wide bell shaped air streams, rugged aluminum housing and long life emitter points. Manufacturing excellence by our ISO approved factory. Requires our HDSL-009 Power supply (included with your order).
ElectraFlow HDSL-040 ESD / Contaminant control Air Bar
Price: $608.93 (includes SL-009 power supply) and FREE SHIPPING!
Specifications
| | |
| --- | --- |
| HV Cable Length | 3,000 mm |
| Maximum & Minimum Length | 1,500 mm and 200 mm |
| Operating Temperature | 20 ~50°c |
| Relative Humidity | <60% |
| Current Consumption | 0.4ma |
Decay Test Results
| | |
| --- | --- |
| Distance | Decay Time |
| | With compressed air at 30 PSI |
| 20mm | 1.1s |
| 40mm | 1.1s |
| 60mm | 1.3s |
| 80mm | 1.4s |
| 100mm | 1.6s |
| 300mm | 2.5s |
| 600mm | 2.9s |
| Testing Voltage | 2Kv to less that 10% |
Remarks:
1. Distance measured in mm, decay time measured in seconds.
2. Test data available via ME268A Charge Plate Analyzer
3. Test figures subject to variation of atmospheric conditions
Instruction overview (see full instruction manual provided with unit prior to use of this device). The HDSL-040 is designed to work with clean, moisture and oil free compressed air that has been filtered to <5 microns. This unit requires a minimum air volume of 15 CFM. Clean and purge all air filters and regulators prior to initial use of this deice. This device is designed to provide years worth of reliable service but IS NOT WARRANTED for malfunctions caused from a contaminated air supply. Set air pressure to the minimum required to do the job. Excess air use is wasteful and dilutes the ionization while increasing the operating noise level of the unit.
Contact United Static Control Products!
Tame the Static Beast Before it Takes another Byte!
© All rights Reserved