ELECTRASTAT Type 180
Mission Critical ESD Flooring Runners
Anti Static and Anti Fatigue! Build to any length!
Outstanding static control for mission critical manufacturing
FREE SHIPPING on this ESD Matting going to our Clients in the Continental U.S.A. AND Canada! Plus! Order today and receive an Additional 5% off of this material! Details apply

Give your employees the comfort they deserve. Give your product the static control PROTECTION it demands! THIS conductive interlocking anti-fatigue static control floor mat provides employee comfort! After all, a more comfortable technician is a more productive Technician!
ElectraStat 180 is a static conductive (not merely antistatic) material for ULTIMATE static decay and ULTIMATE static control. Type 180 features end pieces and center sections that interlock for a runner of ANY length. Type 180 is provided with a diamond plate vinyl top surface over an air cell shock absorbing underside. ElectraStat 180 is designed to eliminate static generation from standing technicians and easily meets the stringent new S 20.20 standards with electrical resistance properties of<3.5E07 per 97.1 and resistance to ground of , 1 meg (1.0E06).
ElectraStat Type 180, Diamond Plate Top Surface Over Pneumatic Shock Absorbing Underside! HEAVY DUTY, made for hard work!
Click HERE to download Data Sheet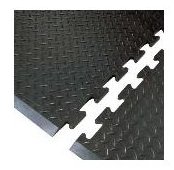 WHY USE A STATIC CONTROL MAT? Static electricity can wreak havoc on electronic components as well as cause issues in flammable environments. Static is most often generated as a byproduct of a person's movement. Example: Clothes rubbing again skin or a person walking on a standard floor. This mat drains the static charge from an individual at a fast yet controlled rate for ultimate static protection in a multitude of environments. It's designed for ergonomic comfort and support. It is not recommended for seated technicians and should be used over hard surface flooring such as standard tiles or concrete. It may also be used to cover thin pile carpet.
Diamond Plate Top Surface!

Pneumatic Shock absorbing underside!

Outstanding static control properties!

Outstanding ergonomic comfort and support!

For standing technicians

Not for use with chairs

Build to any length!

Ramped outside edges!

For covering thin pile carpet and hard surfaces!

Easy to ground (requires PN 115 ground cord kit).

Easy to clean!

Made in the USA and HEAVY DUTY!

A full 1/2 inch thick!

28" wide X 30" long

Ramped outside edges!

Center pieces and end pieces
Click HERE to download Data Sheet