ELECTRASTAT Type 175
Anti-Fatigue / Anti Static flooring Runners and mats. Low Low Static Generation, Good Charge Decay Custom Sizes and Full Rolls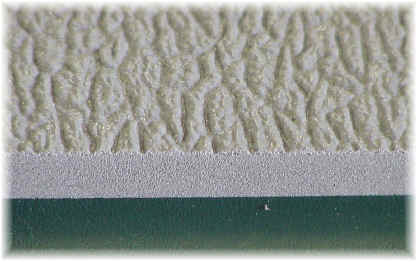 ElectraStat Anti-Fatigue matting is an economical anti static / anti-fatigue floor matting material. It features low static generation properties that maintain their consistency throughout the entire thickness of the matting.
ElectraStat 175's unique textured surface help protect employees from slips (even when wet) while it's superb cushioning provides years of increased employee comfort AND productivity! ElectraStat Type 175-AS is excellent for use when packaging ESD sensitive items that are in a protected status (e.g. items in static control bags or enclosures). Type 175 is dependent on ambient humidity for its conductivity. Hence its electrical properties (needed for static control) will range from 1.0E07 to as high as 1.0E10.
Designed for hard surface floor applications

Provides fatigue relief from prolonged standing

Non-slip surface, very low electrical conductivity.

Beveling on two sides only except 60' rolls.

The most economical anti-static fatigue mat available.

Color: Gray

Thickness: 3/8" (0.375") (9.52 mm)

Surface Resistivity < 1.0 E10 (per ESD S7.1 @ >38 % rH

NOTE: Typically not recommended for use under chairs, stools & carts without being covered with a harder more robust material such as our Titanium ESD chair mats.
Part Number: ElectraStat 175-AS:
FREE SHIPPING for all full rolls going to our Clients in the Continental U.S.A.
Free common point ground Cord with each precut mat!
ROLL PRICING:

Available in Gray

Call for Quantity Discounts!

2' x 60'

$524.16

Delivered Pricing (continental USA only)*

Click here to purchase, use the drop down to select your size

3' x 60'

$786.24

4' x 60'

$1,048.32
CUSTOM CUT SIZES & PRICING:

Available in Gray

2' x 4'

$47.00

Call for Quantity Discounts!

, use the drop down to select your size

New!

Floor Mat Ground Cord now included FREE with Each Custom Cut Mat made from this material!

2' x 6'

$68.00

2' x 8'

$89.00

3' x 4'

$68.00

3' x 6'

$99.50

3' x 8'

$131.00

3' x 10'

$162.50

4' x 4'

$89.00

4' x 6'

$131.00

4' x 8'

$173.00

4' x 10'

$215.00
Contact United Static Control Products
Tame the Static Beast Before it Takes another Byte!
© 1996 - 2022 All rights Reserved
This page last Updated on
05/10/2022