.
professional Grade ESD HEEL Strap
THE most popular esd heel strap in the Nation!
Outstanding Quality, Longevity and Static Control PROTECTION!
Reversible! Doubles the Life Span!
Now as low as $2.93 ea! Click Here to Buy Online
Why Wear an ESD Wrist or Heel Straps?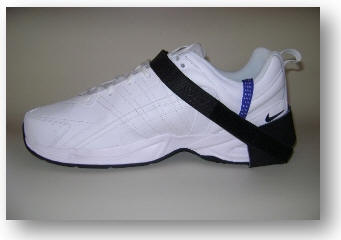 These professional grade esd heel straps have earned their stripes as THE most popular heel strap in the nation by providing quality, performance and value for over 10,000 satisfied clients. Considered by many to EXCEED the quality of straps provided by the high overhead big boys our straps provide outstanding longevity in concert with flawless electrical performance that won't disappoint when critical static control protection is a must.
Manufactured using a dual ply tire grade conductive rubber with an anti-slip texture (for employee safety), an easy to adjust Velcro style tension adjustment, an extra long silver loaded blue ribbon shoe insert (that allows the static charge to migrate from the users body to the conductive black portion of the strap) and a fully reversible cup style heel design (that doubles the straps longevity). Our heel straps contain a built in 1 meg close tolerance resistor for employee safety, are lead free (RoHS compliant) and are individually packaged (for secure deployment). These strap meet or exceed the most stringent ANSI / JEDEC / MIL and ESD Standards. We challenge you to find a better strap at twice the cost!
Part Number 109-AS
Now as low as $2.93 each!
Alternate photo installed on shoe
Click for photo of strap prior to placing in individual bag
Rugged, WIDE heel cup for the utmost in static decay

Fully reversible, doubles the life!

Popular "cup" style.

Non marring inner surface, scuff resistant outer surface.

Decay rate <0.01 second!

Extra long 18" conductive ribbon stays PUT!

1 meg ohm resistor for safety

Acid, chemical and heat resistant.

Velcro hook & loop tightening system for ease of use.

Meets S 20.20-2014 Standards

Passes ESD SP9.2.

Extremely Clean and RoHS 3 Compliant!
ESD HEEL STRAPS FOR STATIC CONTROL
Single straps only $3.30
Only $2.97 each in bags of 10
SAVE! Only $2.93 each in bags of 100!
Professional Grade
High Quality, Long Lasting and Dependable!
In Stock and Ready to Ship!
Associated Products

ESD Hand Lotion: Environmental conditions reduce the static conductivity of your skin. Insure successful hand to heel strap or wrist strap electrical continuity. Wrist straps pass with ease, heel straps no longer fail! Keep those hands baby soft and baby conductive (note: no babies were harmed in our testing)! RoHS and clean room compliant. Paraben free, no colorants nor perfumes. $5.22 each or a case for 24 for just $124.99


ESD Heel Strap Tester: Economical, easy to use and easy to comprehend. Now just $249 each with 3 years worth of free recalibrations.

Click HERE to Contact United Static Control Products
This website is PROTECTED under US and International Copyright and Trademark Laws
United Static Control Products Incorporated
© All rights Reserved
*