ElectraSolve Anti Static Spray Eliminates Static!
Perfect for Carpet, Car Seats or ANYWHERE Static Causes Problems! FINALLY a carpet spray the Really Works! Outstanding longevity! Use less and have it last twice as long as our competitors! Shocking experiences with artificial field turf? ElectraSolve to the rescue! Environmentally Oriented & Biodegradable. HMIS rating less Hazardous than Downey!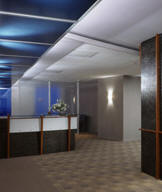 PERFECT for Homes, Offices and More!
Someone walks across a carpet, touches a metal PC case and ZAP itís time to replace that mother board. Another employee strolls across the carpet for coffee, touches a metal filing cabinet and ZAP! The Networks Down again! Microsoft announces that excessive static on your carpet can be bad for your computer (finally a big Company addresses the issue;) suggesting we use diluted Downey sprayed on our carpets (every week or so).
Downey Works great to control the static short term (even if your house / office / data center DOES smell like a Laundromat and your carpet begins to feel slick;) Todayís micro circuitry has reached an unprecedented level of sophistication, to achieve this performance manufacturers BUILD your computers in a static control environment. They try their best to shield the sensitive micro circuitry from ESD (static discharge) - BUT they canít control the effects of excessive environmental static. In the real world you depend on the flawless performance of the sophisticated electronics in your environment and when they fail, your productivity suffers. Trust YOUR computer, data and performance to the static control capabilities of Downey? Yea Right.
Finally an Anti-Static Spray that REALLY Works!
Outstanding Longevity! Use Less! A Little goes a Long way!

Cost effective, super long lasting and immediate static control!

Fast, easy application! STOPS annoying static zaps!

Non flammable and Non aerosol!

Effective on natural AND synthetic fibers!

Biodegradable, environmentally friendly and very low odor!

Protects sophisticated electronics, pets and people!

Perfect for offices, homes, car seats, all carpeting and more! Stops static cling and nuisance static on contact! Now available in convenient 4 ounce bottle and trigger spray quarts as well as gallon and 5 gallon pails!
Application:
Remove dust and loose dirt from carpet with vacuum cleaner. Remove stains to carpet with spotter or a carpet shampooing procedure. Adjust a trigger or pressurized sprayer to deliver a
very fine mist
and lightly cover the application area evenly.
Do not over apply or the carpet will feel slick when dry!
The carpet should feel dry within 10 to 15 minutes after application. Reapply as needed to control static and after shampooing. Static dissipating properties will continue for 60 to 120 days depending on the amount of traffic and relative humidity.
Coverage: Approximately 2,000 to 4,000 square feet per gallon
Shelf Life: 2 Years from date of purchase
ElectraSolve is an environmentally friendly proprietary quaternary /resin formula. With a neutral pH, no free ammonia, alkali, acids or abrasives it provides exceptional results yet won't harm carpeting or fabrics (pre testing is always recommended). ElectraSolve is very low odor when initially applied and short lasting. ElectraSolve features a 2 year shelf life. ElectraSolve is Biodegradable and won't attract dirt to the treated carpeting. ElectraSolve is available in multiple size containers including our new 4 ounce mini-dispenser that's perfect for keeping in the glove box of your car and using on your fabric car seats (pre test a small Inconspicuous area for compatibility prior to full use). Static generation from car seats is much more than merely annoying. It's a very real safety hazard when fueling your vehicle. Here's a video of the way it happens and a hint - it's not her cell phone that sets off the fire. Still think it was her cell?
Protect yourself, Protect your investments - use ElectraSolve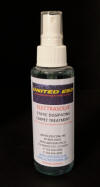 1 ea 4 ounce bottle with convenient trigger sprayer (perfect for glove box). PN: E-Solve-Mini, $12.99 each and

FREE SHIPPING in the contiguous USA. HUGE Distributor Discounts on 100 plus units. Distributors: Call for quantity pricing.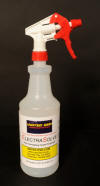 1 ea quart bottle with high quality trigger sprayer. PN: E-Solve-1-QT, $24.95 ea
Note: Trigger sprayer colors may vary.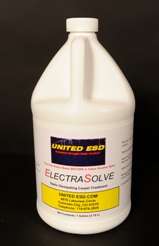 1 Gallon Pail. PN: E-Solve-1-GAL Weight : 9 Pounds. Cost: $40.19 each.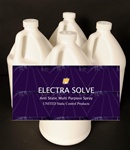 1 Case of 4 ea one gallon containers. PN: E-Solve-Case-G, $151.72 ea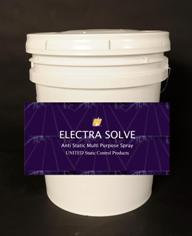 5 Gallon Economy Pail. PN: E-Solve-5-GAL, Weight : 48 Pounds, Cost: $174.70 each.

For an Industrial Strength ESD Carpet Treatment with Measurable static control properties that conform to the latest ANSI ESD standards please click here
Contact UNITED Static Control Products Inc
© All rights Reserved