.
Manufacturing efficiency and high volume purchasing power lets our web clients enjoy great pricing on these high quality - high visibility ESD heel strap with a quick release tension adjustment! Our straps are the most popular in the industry and we sell LOTS. We challenge you to a better strap at twice the cost!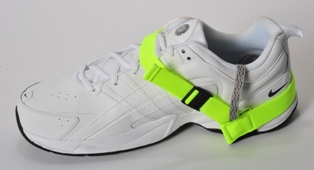 Our popular high visibility electric yellow or iridescent blue ESD heel grounders make it easy for the supervisor to see who's wearing their straps and who's NOT! They feature a quick release snap on the easy to adjust heavy duty elastic that runs across the top of the shoe. Results: GREAT fit, fast deployment and comfortable too! Our heavy duty scuff resistant two layer conductive rubber heel cups are textured for anti slip protection.
THESE heel straps LAST and meet the most stringent of specifications. QUALITY hypoallergenic conductive ribbon provides reliable long lasting performance while our double stitching techniques and an internally molded 1 (or 2 special order) meg resistor provide long lasting security and protection. A perfect replacement for 3M 2051's or similar. Compare to the high overhead big boy's price of $12.38 EACH!
Click Here for Large Photo of the electric yellow heel grounder
Click Here for large photo of iridescent blue heel grounder
Adjustable Quick release closure!

Fully Compliant to Latest ANSI standards!

Meets S 20.20-2014 Standards, passes ESD SP9.2

Extra long 18" conductive ribbon stays PUT!

Individually packaged for secure deployment.

1 meg ohm resistor for safety.

Anti Slip extra WIDE heel cup for the utmost in surface contact and long lasting performance!

QUICK RELEASE YELLOW OR BLUE HIGH VISIBILITY HEEL STRAPS

PN for BLUE heel grounders: SI-211B

PN for YELLOW heel grounders: SI-211Y

Singles: $3.81 each

Bag O' Tens: $3.41 each

Bag O' Hundreds: $3.09 each

Special of the Month: As low as $3.09 each!
Associated Products

ESD Hand Lotion: Environmental conditions reduce the static conductivity of your skin. Insure successful hand to heel strap or wrist strap electrical continuity. Wrist straps pass with ease, heel straps no longer fail! Keep those hands baby soft and baby conductive (note: no babies were harmed in our testing)! RoHS and clean room compliant. Paraben free, no colorants nor perfumes. $5.22 each or a case for 24 for just $124.99


ESD Heel Strap Tester: Economical, easy to use and easy to comprehend. Now just $249 each with 3 years worth of free recalibrations.

Click Here to Contact UNITED Static Control Products
This site is protected by copyright and trademark laws under US and International law.
United Static Control Products Incorporated
© 1993-2017 All rights Reserved
ESD flooring, Mats, Chemicals, ESD Ionizers, and Expertise
09/19/2017