.
MISSION CRITICAL ESD CHAIR MAT
THE most Sophisticated ESD Chair Mat in the Industry! We challenge you to find an ESD floor mat with lower Tribocharging characteristics! For Covering Hard Surface Flooring (tiles, epoxy, concrete etc.) and thin pile direct glue down carpeting.
Click Here for ESD Chair Mats Used for Covering THICK PADDED Carpet
Click Here to Buy this ESD Chair Mat on line and SAVE!
Chair casters grind dirt, wire clippings even nuts and bolts deep into unprotected hard surface floors (including concrete and epoxy) Results - Unsightly scratches, gouges and electrically insulative DIRT. The problem is compounded in static sensitive manufacturing by the need for advanced control of electrostatic discharge.
Not only must the mat protect the flooring, it must provide unparalleled electrical conductivity in order to dissipate the electrostatic potential generated by the contact and separation of the chair casters rolling on the matting (or the technician walking on the mat).
Prior to the new standards, antistatic floor mats merely had to provide an electrical resistance to ground in the very high static dissipative range. Voltage generation was not part of the equation. But with today's new requirements the esd flooring (or floor mat) MUST achieve superior static control properties. Why the changes? Today's sophisticated components are simply too susceptible to static damage from even a low voltage electrostatic discharge.
MOST ESD Chair Mats FAIL DOD, NFPA and ANSI ESD Standards! Why?
Clear Chair Mats and most ordinary anti-static mats rely on the ambient humidity in the environment to render the mats even slightly conductive.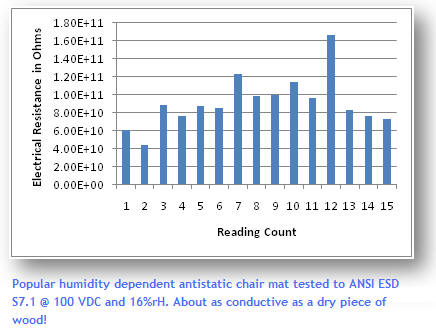 When the humidity is high (>60% rH) they sometimes meet the old specifications for electrical conductivity BUT when the humidity drops they become electrically insulative and the static generation goes through the roof!
A floor mats electrical conductivity, charge generation and decay tells the tale and NO mat has better performance than Titanium!
Does this popular antistatic mat we show in the graph really work?
Nope! A piece of dry wood comes in about as conductive as this popular "anti-static mat" AND it's not even close to being sophisticated enough to comply with the latest requirements of ANSI/ESD S20.20-2014 or NFPA-484 (used in additive manufacturing).
With resistance levels this high it is EASY to generate a charge of at LEAST 500 volts or more and < 100 volts is the passing limit!

Titanium Tough but thin for reduced tripping hazards!

Permanent or temporary esd safe workstation mat!

Fully compliant to the latest ANSI/ESD and NFPA 484 standards!

Passes ISO and all ESD Audits with ease!

TR-53 friendly! ESD Conductive!

ULTIMATE Mission Critical Static Control!

Lifetime Warranty on Conductivity, Compliance and Topical Wear Properties!
40220-HSB's are truly THE portable ESD Floor for your workstation! Easily compliant to the latest ANSI ESD S20.20-2014 and NFPA-484-15 Standards for static control. An excellent choice for use with or without drag chains in ALL mission Critical Environments!
Our UltraStatic Control Chair mats are custom manufactured in using our Titanium static control esd flooring sheet vinyl. This material features an unbelievably hard wear resistant top surface laminated to a full surface static conductive backing and provides ULTIMATE static conductivity in all environments and at all humidity levels.
COLORS
Pale Gray

PN: Ti481

Dark Gray

PN: Ti482

Electronic Blue

PN: Ti483

Clean White

PN: Ti480
Click for all Colors on a White Background
TESTING and CERTIFICATION
Update 07.23.18: Each 40220 HSB or HSC Mat is thoroughly tested to ANSI ESD S20.20-2014 standards. Documentation is provided with each mat providing the following:
Test Method 1, conductivity: ANSI/ESD S 20.20-2014 (page four, table two) TR-53 Footwear / Flooring Section Compliance Verification utilizing methods partially incorporated into ANSI/ESD STM7.1-2013 and STM 97.1. NOTE: Passing is <1.0E09. Results shown for method 1: Matting and Ground Cord Electrical Resistance to Ground (average of 5 readings), Point to Point Electrical Resistance (average of 5 readings) and the Electrical Resistance of a Technician in heel straps with the matting and ground cord per STM 97.1 (average of 5 readings).
Test Method 2, charge generation: ANSI/ESD S 20.20-2014 (page four, table two) TR-53 Footwear / Flooring Section Product Qualification per STM 97.2. NOTE: Passing is <100 volts.
MATTING SPECIFICATIONS
Average Surface Resistivity Point to Point (PTP per ESD S 7.1)
>1.0E04 <1.0E06 (esd conductive)
Average Electrical Resistance to Ground (RTG per ESD S 7.1)
>1.0E04 <1.0E06 (esd conductive)
Electrical Resistance of technician in heel grounders in conjunction with material to ground (per ESD 97.1)
< 3.5E07
Tribo charging characteristics (per ESD 97.2)
<10 volts - passing is <100
Flooring Radiant Panel: NFPA 253: Critical Radiant Flux
0.73 W/cm2, Class 1
Flooring Radiant Panel: NBSIR 75-950: Critical Radiant Flux
Pass, Class 1
Flooring Radiant Panel: ASTM-648: Critical Radiant Flux
0.73 W/cm2, Class 1

Smoke Density, ASTM E-662; NFPA 258; Average optical density in burning / smoldering mode

<450
Residual Indentation LF-475A
0.002 average
Abrasive Wear, Taber H-18 wheel, 5,000 cycles, 1,000 gm weight
1.1% loss of weight
Abrasive Wear, Taber H-18 wheel, 1,000 gm weight to wear layer penetration (end point)
>20,000 cycles, <2.0% loss of weight
Static coefficient of friction, ASTM D-2047-03, James Test average wet, dry leather
.60 approx.
Static load limit DIN 16961.2
>1,000 PSI
Charge decay time per FTMS 4046-101c
< .17 seconds
Thickness
2 mm (about a 1/16 of an inch).
Spark Test: 300 mm metal file, 1.8 meter arc, darkened room
PASS

WARRANTY: These mats are warranted for LIFETIME Static Control Performance, LIFETIME topical wear performance and LIFETIME compliance to ANSI ESD S20.20-2014, DOD 4146.26-M* and NFPA 484-15* ESD Standards. The ground cords are warranted for one year. These mats support chair caster traffic nicely but they are NOT designed for continual substrate to mat chair caster traffic. This type of traffic may cause chipping to the edges of these mats. Edge chipping is NOT covered under the warranty. BE SURE to order your mat in a wide enough width and long enough length to avoid this issue. Remember: The chair should always stay on the mat. Use ONLY ElectraClean and water or ElectraMat to clean these mats. Other cleaning chemicals may leave an insulative residue and make the mats brittle. *Note: May require a resistor free ground cord for NFPA and DOD standards.
Ground Cord Specifications: Note each ground cord is provided with a 1 megohm safety resistor.
Download Installation Instructions
PRICING
Click Here to Buy this esd mat on line and SAVE!
Note: These chair mats do not qualify for our free shipping program.
| | |
| --- | --- |
| 3' x 3' | $154.01 |
| 3' x 4' | $156.43 |
| 3' x 5' | $200.14 |
| 3' x 6' | $222.00 |
| 4' x 4' | $178.29 |
| 4' x 5' | $238.00 |
| 4' x 6' | $285.60 |
| 4' x 7' | $333.20 |
| 4' x 8' | $380.80 |
PART NUMBER: 40220 HS-B followed by size and color.
CONTACT UNITED STATIC CONTROL PRODUCTS
Tame the Static Beast Before it Takes another Byte!
© 1996 - 2018 All rights Reserved