WS-1020 Premium ESD Wrist Strap
Patented anti-static curly cord (ground cord)! Only from Static Solutions Inc!
The Guaranteed LOWEST Price in the Nation on the WS-1020

Now Only $5.62 each! Click HERE to Buy Online!

Find one at a lower price? Let us know and receive a free static control gift!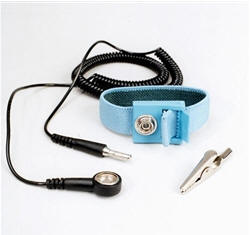 ESD S1.1 standards recommend the use of static control wrist straps to complete an effective ESD control system in static control environments. Normal activity builds harmful static charges, if an ungrounded user makes contact with a static sensitive device the result can be costly and damaging. Ohm-Stat wrist straps safely dissipate harmful electrostatic charges with guaranteed long lasting protection.
Arm yourself with the highest grade protection of Ohm-Stat Wrist Straps. Only the Ohm-Stat Series offers long lasting, high quality wrist straps with innovative design on a price conscience schedule. Static Solutions wrist straps are proudly made with quality control and 20/20-2014 conformance. The WS-1020 esd wrist straps are individually packaged with instructions for user convenience, long lasting, high quality and easily cleaned with a mild detergent.
Outstanding quality.
Fast and easy deployment.
One size fits most wrists.
Patented non tribocharging cord and band.
USPTO Patent 6,426,859.
Superior conductivity.
Superior comfort and wear resistance.
Copper chemically bonded to acrylic nylon fibers.
No carbon sloughing
Non allergenic and clean room compatible.
Anti-bacterial. Perfect for medical manufacturing.
Generous 10 ft (antistatic) strap to ground cord.
Color: Blue
Unique fabric lock design prevents slippage.
Clean room compatible.
UL listed - One meg ohm current-limiting safety resistor in each cord.
Associated Products

ESD Hand Lotion: Environmental conditions reduce the static conductivity of your skin. Insure successful hand to heel strap or wrist strap electrical continuity. Wrist straps pass with ease, heel straps no longer fail! Keep those hands baby soft and baby conductive (note: no babies were harmed in our testing)! RoHS and clean room compliant. Paraben free, no colorants nor perfumes. $5.22 each or a case for 24 for just $124.99


ESD Constant Monitors: Test your wrist strap every second of the working day. Alarms if strap or contact with the user becomes compromised. Eliminates testing manually and entering results in a log.


Common Point ESD Mat Ground Cords: Ground wrist strap and esd matting to a single location. Best price in the Nation $5.25 ea.


ESD Wrist Strap Tester: Economical, easy to use and easy to comprehend. Now just $129 each with 3 years worth of free recalibrations.

Also available as a wall mount wrist AND heel strap tester.
Click Here to Contact UNITED Static Control Products
This site is protected by copyright and trademark laws under US and International law.
United Static Control Products Incorporated
© 1993-2019All rights Reserved