.
Why Wax an ESD Floor?
ESD floor finish provides protection, fights scuff marks and extends the life of your static control floor!
Like you, an esd floor works hard for it's living. Unlike you ESD flooring needs to perform flawlessly often 24 hours a day, seven days a week. Conventional wisdom from the esd vinyl flooring manufacturers dictate that their materials do not require using any type of esd floor finish.
Unfortunately, their outdated "conventional wisdom" hasn't had to maintain a floor in a real world manufacturing environment!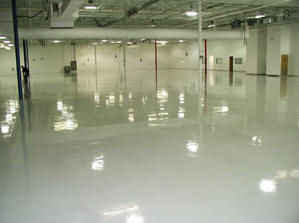 Past reasons for not using an esd floor finish were due to the large increase in resistance levels that many formulations provide.
ElectraGlaze is Different!
United SCP's ElectraGlaze is specifically designed for use with ALL types of esd flooring and provides minimal changes to an esd floors electrical conductivity. An esd conductive floor protected with 2 thin coats of our ElectraGlaze is easily compliant with the latest ANSI ESD 20.20-2007 guidelines for primary grounding of a technician.
Why wax and ESD Floor? It's Only Obvious!

Protects your flooring and reduces maintenance cost.

Clean Diamond Like Gloss for ANY esd floor.

Scuff marks polish right off!

Greatly improves slip resistance for added employee safety!

2 thin coats = Minimal modification to electrical resistance.

Seals seams between tiles for easier removal of dust.

Ground in dirt can be easily stripped from floor.

Long lasting protection, 1 year typical and EASY to recoat.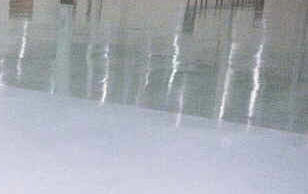 In this photo it's EASY to see where the ElectraGlaze ESD wax (and protection) starts. A pencil (as well as heel straps) leave an easy to see (hard to remove) scuff mark on our untreated Forbo ESD floor in Austin Texas but NOT where the ElectraGlaze starts. Let us send you a sample and try the "pencil demo" yourself! The difference is astounding.
Modifications to the ESD floor's electrical conductivity are minimal when applied in 2 thin coats typically raising the insulative properties a mere 1/2 decade. This minor increase in insulative properties is a small price to pay for the outstanding reduction in scuff removal and ease of maintenance and easily allows the tiles to conform to recent ANSI standards for conductivity.
ElectraGlaze ESD Floor Wax Ultimate gloss, conductivity and longevity. Scuff marks polish right off! Most untreated esd tile floors are slippery when wet. ElectraGlaze greatly improves the slip resistance of all esd flooring for added employee safety.
ElectraClean ESD Floor Cleaner: Outstanding Neutral Floor Cleaner and restorer for ESD flooring. Perfect for occasional damp mopping, very light pleasant clean odor. Helps rejuvenate anti static was and removes abrasives that can scratch your esd floor. Very economical. Highly concentrated! Why pay for water (unless it's Fiji;)!
ElectraShine Anti Static ESD Floor Buff: Diamond like shine and Ultimate Gloss, cleans, removes scuff marks and helps rejuvenate the anti static floor finish! E-Shine spray buff for high speed polishing of esd and standard floor finishes.
ElectraStrip Floor Stripper: Proprietary ESD Floor wax stripper made specifically for subsequent applications of esd floor finish. Doesn't leave an insulative residue. Lowest odor in the industry!
Stops the static ZAPS from your carpeting.
ElectraSheen Sapphire II: The hardest, longest lasting, highest gloss floor finish in the industry. Controls dust and reduces nuisance static electricity.
.
ESD FLOORING SELECTION GUIDE
CONTACT UNITED STATIC CONTROL PRODUCTS
05/15/2013