.
Why use ElectraGlaze ESD Floor Finish on ESD Tile, Sheet Vinyl and ESD Epoxy?
ESD floor finish provides protection, fights scuff marks, increases the anti slip properties and extends the life of your static control floor! Like you, an esd floor works hard for it's living. Unlike you ESD flooring needs to perform flawlessly 24 hours a day, seven days a week. Conventional wisdom from the esd vinyl flooring manufacturers dictate that their materials do not require using any type of esd floor finish.
Unfortunately, this outdated "conventional wisdom" hasn't had to maintain a floor in a real world manufacturing environment!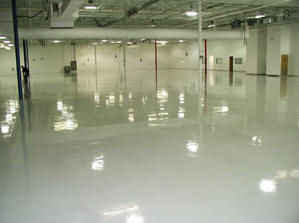 Past reasons for not using an esd floor finish were due to the large increase in resistance levels that many formulations provide.
ElectraGlaze is Different!
United SCP's ElectraGlaze is specifically designed for use with ALL types of ESD Flooring and provides minimal changes to an esd floors electrical conductivity. An esd conductive floor protected with 2 very thin coats of our ElectraGlaze is easily compliant with the latest ANSI ESD 20.20-2014 standards.

Protects your flooring and reduces maintenance cost.

Clean Diamond Like Gloss for ANY esd floor.

Scuff marks polish right off!

Greatly improves slip resistance for added employee safety!

Minimal modification to electrical resistance.

Seals seams between tiles for easier removal of dust.

Ground in dirt can be easily stripped from floor.

Long lasting protection and EASY to recoat.
Remove scuff marks easily and provide a clean crisp gloss that will make your competition jealous and your clients think WOW!
| | |
| --- | --- |
| | |
| Before | After |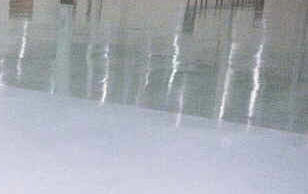 In this photo it's EASY to see where the ElectraGlaze ESD wax (and protection) starts. A pencil (as well as heel straps) leave an easy to see (hard to remove) scuff mark on our untreated Forbo ESD floor in Austin Texas but NOT where the ElectraGlaze starts. Let us send you a sample and try the "pencil demo" yourself!
The Difference is Astounding.
Modifications to the ESD floor's electrical conductivity are minimal when applied in 2 thin coats typically raising the insulative properties a mere 1/2 decade (easily within tolerances). This minor reduction in conductivity is a small price to pay for the outstanding increase in scuff removal, shine, anti slip properties and ease of maintenance.
.
Click HERE to Contact United Static Control Products
ESD Flooring, Mats, Chemicals, ESD Ionizers, and Expertise
United SCP Tames the Static Beast BEFORE it Takes Another Byte!
®
© 1996-2017 All rights Reserved
This page last Updated on
10/13/2017