Office electronics such as Networked Computers, Copy machines and Printers rely on a variety of sensitive micro components to program the functions of their operations. Sophisticated electronic products are built in a static control environment to protect the products during manufacturing but manufacturers canít control the static you produce in your environment.
User-induced electrostatic discharges to sensitive electronic devices are not only annoying, but can be interpreted by the microprocessors as software commands. While discharges to sensitive programming panels (especially touch screen panels) can cause catastrophic damage.
Static Discharge to Sensitive Electronics = Lost Productivity!
The VersaStat is easy to install and doesn't require any tools. Simply peel off the unique (no residue) conductive adhesive backing from the pickup, place pickup on your existing chair mat or carpet and plug the unit into a reliable grounded electrical outlet. Lightly mist the pad and the surrounding area with UltraSpray (for hard surfaces such as chair mats) or ElectraSolve for carpets. A light application of either spray last about 2 months. The results are impressive, noticeable and immediate.
The tough, maintenance free pickup is virtually indestructible!

Easy installation requires no tools or batteries.

Automatic electrostatic elimination requires no user intervention and works with all shoes.

Drains the charge from a 20' x 20' carpeted area! (when used in conjunction with ElectraSolve).

Economical at a fraction of the cost of ONE service call.

Electrostatic pad is low profile for reduced tripping hazard.

Releasable adhesive backing anchors pad to all types of floors and carpets and leaves NO sticky residues if removed.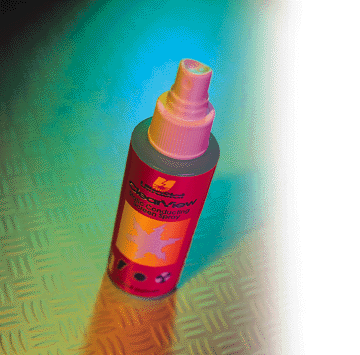 Designed to work in concert with a very light application of either UltraSpray (for use with hard surfaces such as chair mats) OR ElectraSolve (for use with carpeting). One light application of our spray last about 2 months!

Unique peel and stick conductive adhesive backing designed to leave no residues on carpets, chair mats or hard surface flooring.

Optional Static Indicator: Our unique InteliStat "seeing is believing" static collection / display unit. Simply tapping your foot generates enough static to fire the indicator! SHOWS how easy it is to create static and that the charge has been effectively neutralized by your VersaStat! Awesome technology and only from United Static Control Products!
Static Pickup Now Available in Four Designer Colors!
| | | | |
| --- | --- | --- | --- |
| Light Gray | Dark Gray | Blue | White |

The VersaStat System with Static Indicator, 4 ounce bottle of UltraSpray (for chair mats) OR 4 ounce bottle of ElectraSolve (for carpeting) and 2' x 1' static pickup (with releasable peel and stick adhesive backing.
$149.58

The VersaStat is so powerful it can drain the static charge from carpet, so versatile it's perfect for even protecting sensitive high end audio equipment. Perfect for use on plastic chair mats or any hard or soft floor covering system. The VersaStat Tames the Static Beast Before it Takes Another Byte!
Click HERE to Contact United Static Control Products
Tame the Static Beast Before it takes another Byte
© All rights Reserved
*