.
Anti Static Pickup / Static Control for Computers!
Make ANY Chair Mat Anti Static. Guaranteed Results! Also for use on Carpet and all Hard Surface Flooring!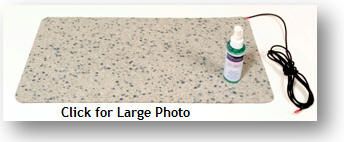 Controls the devastating effects of user induced static discharge to electronics.
Protects computers, file servers, sophisticated audio equipment and cash register touch screens - eliminates static induced glitches in micro electronics - protects network integrity and Tames the Static Beast!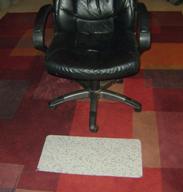 The VersaStat Static Control System - PROTECTS computers, file servers, copy machines, sensitive audio equipment and micro electronics from the damaging effects of user induced Electro Static Discharge.
Safely removes static electricity from people and carpeting.
Excellent for removing static from all types of chair mats, chairs and personnel. Available with or without our unique patented static display monitor the VersaStat installs in minutes, drains the static electricity in seconds, is built to last a Lifetime and is Made in America.

Immediate and impressive static control!

EXCELLENT for use as an Earthing Mat for Health!

Protects electronics from user induced static events!

Tough yet thin static pickup for reduced tripping hazard!

Easy to ground! Simply plug it in!

Eliminates the static from 20' x 20' carpeted area

Makes ANY chair mat a static free Island!

Place in front of file servers to discharge technicians BEFORE they touch the server!
The VersaStat System is much more than a mere anti static chair mat. The system features a specialty static pickup manufactured with a precise amount of electrical resistivity. Our unique pickup material slows and controls the rate of static discharge while safely and effectively moving the static to a reliable ground source and away from the user and the equipment. Designed to work in conjunction with our static conductive sprays (included with your order).
The VersaStat is easy to install and doesn't require any tools. Simply peel off the unique (no residue) conductive adhesive backing from the pickup, place pickup on your existing chair mat or carpet and plug the unit into a reliable grounded electrical outlet. For ultimate performance lightly mist the pad and the surrounding area with UltraSpray (for hard surfaces such as chair mats) or ElectraSolve for carpets. A light application of either spray last about 2 months. The results are impressive, noticeable and immediate.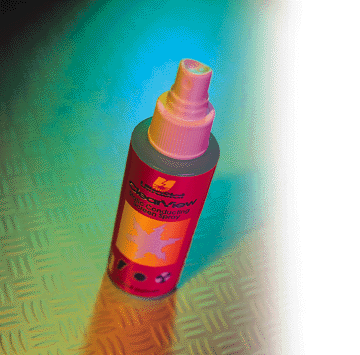 For optimum results use the VersaStat in concert with a very light application of either UltraSpray (for use with hard surfaces such as chair mats) OR ElectraSolve (for use with carpeting). One light application of our spray last about 2 months and is included with your order at no charge!

Unique peel and stick adhesive backing may be used to anchor the VersaStat to carpets, chair mats or hard surface flooring. Reduces tripping hazards. Removing the entire backing of the adhesive provides an extra firm bond. Removing the cover from 4 corners provides a less aggressive bond.

New! NOW easier to ground. Simply plug the unit in to any grounded 3 prong outlet. Totally safe - the ground wire of the VersaStat makes contact with the ground of the outlet. NO power is transferred to the VersaStat. The unit does not require batteries nor electrical power to function. Should you require a unit terminated with a #10 ring eyelet in place of the three prong plug simply let us know in the order notes. The terminal must be attached to ground for the VersaStat to function properly.

Optional Static Indicator: Our unique InteliStat "seeing is believing" static collection / display unit. Simply tapping your foot generates enough static to fire the indicator! SHOWS how easy it is to create static and that the charge has been effectively neutralized by your VersaStat! Awesome technology and only from United Static Control Products!
Static Pickup Now Available in Four Designer Colors!
| | | | |
| --- | --- | --- | --- |
| Light Gray | Dark Gray | Blue | White |
The Way it Works!
Static electricity is typically generated by the contact and separation of a person's shoes (or the casters of a chair) against an insulative surface (like carpet or a chair mat). The static charge is stored on the person until they contact the mat (immediate) or contacts the conductive spray that is used on the pad and surrounding area (slower discharge but equally as effective). The charge flows across the spray, to the pickup, is slowed and controlled and dissipated to the to AC electrical ground.
Installation in 4 easy steps!
The VersaStat is so powerful it can drain the static charge from carpet, so versatile it's perfect for eliminating static induced problems with copy machines and even sensitive audio equipment. Perfect for use on plastic chair mats or any hard or soft floor covering system. Optional Patented battery free (static powered) electrostatic collection / display unit provides Informative verification of charge decay.
Click HERE to Contact United Static Control Products
Tame the Static Beast Before it takes another Byte
© 1996-2021 All rights Reserved