.
This professional grade esd wrist strap assembly strikes the perfect balance between cost, longevity and flawless static control performance. Our soft yet conductive elastic band and stainless steel backing plate provides 360 degree contact with the technician's wrist. The strap tension is easily adjustable and it holds its setting as the strap ages.
The heavy duty 3/8 snap and socket provides a secure and reliable attachment of the long life polyurethane ground cord terminated with a standard male banana jack (perfect for use with under bench ground blocks and many constant monitors). Each unit is also supplied with an alligator clip that may be slipped over the banana jack for attachment to ANY grounded object. Fully compliant to THE most stringent ANSI / JEDEC / MIL and ESD Standards and are provided with a built in 1 meg close tolerance resistor for technician safety.
Part Number: USC108-AS
Now as low as $2.85 each!
Close up photo of strap, cord and hardware
Click to buy the same great strap with a 12' cord

Popular side adjustable, one size fits all.

Conductive elastic! 360 degree conductivity.

Hypoallergenic metal contact plate.

In Stock and Ready to Ship.

Generous EIGHT FOOT Cord standard (fully extended).

TWELVE FOOT ground cord (optional).

Heavy Duty 3/8" socket and stud.

Individually packaged for secure deployment.

Quality Manufactured and Fully Tested.

Always in Stock! Ready to Ship.

Extremely Clean and RoHS Compliant (lead free).

Banana plug PLUS alligator clip for use on ALL grounds or equipment!
High Quality, Long Lasting and Dependable!
In Stock and Ready to Ship!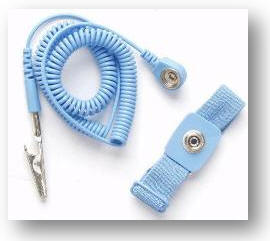 (shown with alligator placed over the banana jack)
Single straps only $3.76
Only $2.97 each in bags of 10
SAVE! Only $2.85 each in bags of 100!
Associated Products

ESD Hand Lotion: Environmental conditions reduce the static conductivity of your skin. Insure successful hand to heel strap or wrist strap electrical continuity. Wrist straps pass with ease, heel straps no longer fail! Keep those hands baby soft and baby conductive (note: no babies were harmed in our testing)! RoHS and clean room compliant. Paraben free, no colorants nor perfumes. $5.22 each or a case for 24 for just $124.99


ESD Constant Monitors: Test your wrist strap every second of the working day. Alarms if strap or contact with the user becomes compromised. Eliminates testing manually and entering results in a log.


Common Point ESD Mat Ground Cords: Ground wrist strap and esd matting to a single location. Best price in the Nation $5.25 ea.


ESD Wrist Strap Tester: Economical, easy to use and easy to comprehend. Now just $129 each with 3 years worth of free recalibrations.

Also available as a wall mount wrist AND heel strap tester.
Click Here to Contact UNITED Static Control Products
This site is protected by copyright and trademark laws under US and International law.
United Static Control Products Incorporated. © 1993-2016 All rights Reserved
This page reviewed for accuracy and last Updated on 10/13/2017