ESD Flooring: Testing and Certification
Indisputable Proof of ESD Flooring Compliance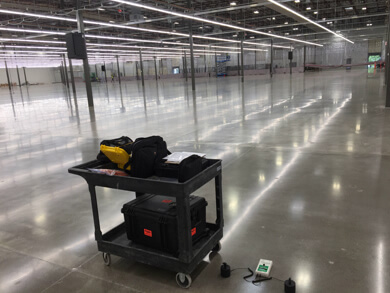 United SCP is possibly the most experienced third party ESD Flooring Certification source in the U.S.A. Our Engineers have certified over ten million square feet of ESD flooring technology since our original Certification of a GE facility in 1993.
On site testing is completed by engineers adept at testing to ANSI / ESD for electronic manufacturing, D.O.D 4145. 26-M for mission critical explosives environments and NFPA 484-15 for combustible metals (including additive manufacturing / 3D printing).
At United all we do is static control. As such, our engineering team understands the nuances of your ESD program and its interaction with the ESD Floor. Our engineers have provided independent 3rd party certifications for virtually every brand of commercially available ESD flooring including VPI, Armstrong, Forbo, StoneHard, Desco, Static Works, Julie Industries, Shaw, Polyflor, Tarkett and more.
We are a preferred source for testing to ANSI/ESD S20.20-2021, 97.2 and are now available to provide 3rd party compliance verification for ESD Ionizers, Table Top Mats, Floor Mats and more in concert with the flooring Certifications.
Testing is fast, complete, accurate, concise, and professional. Typical rates inside the continental USA are $3,500 per day. This price is inclusive of all expenses incurred by the Technician (airfare, car rental, lodging etc.). The collected data is transferred to our Engineering Team who provide a full Report and Certification in accordance with the latest reporting standards. Rates outside the continental USA vary. Please call our sales group at 719 676 3928 for a quotation.
At United SCP we understand the importance of your ESD Floor! So why use us for compliance and certifications? Well, for one you would be in with GREAT Company!
| Client | Location | Area Covered | Type of ESD Flooring / Products |
| --- | --- | --- | --- |
| Astranis Space Technologies | San Francisco | 69,000 sf | ElectraGuard High Gloss |
| Marion County Justice Center | Indianapolis, IN | 29,000 sf | ElectraTile |
| DuPont | LA | 5,700 sf | Forbo ESD Tile |
| Confidential | Nevada | 22,000 sf | ElectraGuard ESD Epoxy |
| Dentsply | Mexico | 128,000 sf | EG Elite Thick Set ESD Epoxy |
| Semtech | CO | 9,720 sf | ElectraGuard ESD Epoxy |
| Confidential | Ohio | 10,297 sf | ElectraGuard Stellar Black |
| Argonne National Labs | IL | 28,371 sf | ElectraSeal ESD Sealer |
| Commercial Flooring Center | New Jersey | 23,000 sf | Titanium Sheet Vinyl |
| | MD | 7,800 sf | ElectraGuard High Gloss |
| University of Cincinnati | OH | 6,200 sf | ESD Epoxy |
| Cambridge Innovations | MA | 7,000 sf | ESD Epoxy |
| Park Center IV | VA | 62,000 sf | Titanium ESD Tiles |
| Loon LLC | Puerto Rico | 10,000 sf | ElectraGuard High Gloss |
| | Utah | 51,000 sf | ElectraGuard High Gloss |
| GE Additive | N/A | 210,000 sf | ElectraSeal / ElectraGuard |
| | CO | 23,000 | ElectraGuard ESD Epoxy / E-Tile |
| | NM | 47,000 sf | ElectraGuard ESD Epoxy |
| United Launch Alliance | CO | 63,000 sf | ESD Carpet and Tile |
| | NY | 87,000 sf | ElectraGuard ESD Epoxy |
| Apple | CA | 30,000 sf | ElectraSeal ESD Concrete sealer |
| | Kirkland WA | 150,000 sf | ElectraSeal over polished concrete |
| Philips Healthcare | Bothell, WA | 2,000 sf | ESD Carpet Tile |
| Northrop Grumman | U.S.A. / Saudi | N/A | VPI ESD Tiles |
| GE CATA | Imperial, PA | 187,000 sf | |
| | Columbus Ohio | 3,0000 sf | ElectraGuard High Velocity |
| Honeywell / KBRwyle | N/A | Numerous | Matting, ESD work stations, flooring |
| Microsoft | Various Locations | Numerous | ElectraTile ESD Vinyl Tiles |
| UTC Aerospace Systems | Colorado | 25 areas | |
| LMI Aerospace | Kansas | 10,000 sf | ESD Epoxy, matting, ionizers |
| Catalent Pharma | Kentucky | 23,000 sf | StoneHard Thick Set Epoxy |
| Oven Industries | Pennsylvania | 40,000 sf | ESD Epoxy / ESD Tiles |
| Inovar | Tecate, Mexico | 50,000 sf | ESD Epoxy |
| Grand Central Station East | New York, NY | 89,000 sf | ESD Concrete Sealer |
| Tolt Solutions | Charlotte, NC | 30,000 sf | ESD Epoxy, Tiles and Sealers |
| Vandenberg AFB | Vandenberg AFB | 45,000 sf | ESD Epoxy |
| PAF Mansoor Base | Pakistan | 14,000 sf | ESD Sheet Vinyl |
| Thermalogic | Hudson, MA | 12,000 sf | ESD Epoxy |
| Dallas Ft Worth Intl. Airport | Dallas Ft Worth | 27 critical areas | ESD concrete Sealer, Tiles, Epoxy |
| Winn-Marion | Centennial, CO | 12,800 sf | ESD Epoxy |
| SparkFun Electronics | Boulder, CO | 56,000 sf | ESD Concrete sealer, ESD Epoxy |
| Tyco | Various Locations | 250,000 SF | |
| Northrop Grumman | Saudi Arabia | 10,000 SF | |
| Quantum | Various Locations | 98,000 SF | |
| Intel | Austin, TX | 12,987 SF | ESD Carpet Tile |
| The Pentagon | Pentagon WA DC | 20,000 SF | |
| Lockheed Marin | Various Locations | 129,000 SF | |
| FAA | Various Locations | 63,192 SF | |
| Versalogic | Various Locations | 68,000 SF | |
| International Control Service | Decatur, IL | 40,000 SF | |
| Avant Technologies - | Austin TX | 28,000 SF | |
| Aerojet - Aerospace | Rancho Cordova CA | 4,500 SF | |
| Northrop Grumman | Springfield PA | 3,000 SF | ESD Epoxy Flooring |
| Chandler Airport | Chandler AZ | 1,000 SF | ESD Carpet |
| Cameron Health | San Clemente, CA | 6,000 SF | ESD Sheet Vinyl |
| 911 Call Center | Midland Texas | 8,000 SF | Static Control Carpeting |
| Maxtor Corporation | Coppell, TX | 20,000 SF | ESD Epoxy Flooring |
| ARQ Electronics | College Station, TX | 35,000 SF | ESD Epoxy Flooring |
| Agilonics Corporation | CA | 5,000 SF | ESD Epoxy Flooring |
| White Sands | Government | 15,000 SF | ESD Broadloom Carpeting |
| Jabil Circuit - | St Pete, FL | 42,000 SF | UltraStatic Control Vinyl |
| Naval Base - | Point Mugu | 26,800 SF | ESD Tiles |
| Effective Engineering | Burbank CA | 13,000 SF | ESD Control Carpet |
| Transistor Devices, Inc. | Tecate,, Mexico | 25,000 SF | ElectraFloor Vinyl |
| US Marine Corps | Quantico VA | 25,000 sf | ESD Carpet |
| Scanfil USA | Buford, GA | 15,000 SF | ESD Concrete Sealer |
| Canadian Defense | Gagetown NB | 1,000 SF | ESD Carpet |
| Indiana University | Bloomington, IL | 1,200 SF | ESD Vinyl |
| Aerojet - Aerospace | Sacramento, CA | 24,500 SF | ESD Floor Tiles |
| I PG Photonics - | Boston, MA | 16,500 SF | ESD Vinyl Floor Tiles, |
| Peregrine Semi Conductor | San Diego CA | 16,000 SF | ESD Epoxy Flooring |
| Effective Engineering | Burbank, CA | 6,000 SF | ESD UltraTile Vinyl |
| Octagon Systems | Westminster, CO | 12,000 SF | ESD UltraTile Vinyl |
| GN Nettest/ Optical Division | Utica, NY | 18,000 SF | ESD Epoxy Flooring |
| Lucent Technologies | South Kearny, NJ | 10,000 SF | ESD Sheet Vinyl |
| Avant Technologies | Austin, TX | 6,000 SF | UltraTile Vinyl |
| Lucent Technologies / Tyco | Matamoras, Mexico | 100,000 SF | ESD Vinyl Welded sheet goods |
| Lear Corporation | Zanesville, OH | 30,000 SF | ESD Vinyl Sheet Goods |
| Jabil Circuit | St Petersburg, FL | 170,000 SF | UltraStatic Control ESD Vinyl |
| Fujitsu Mexico Global | Reynosa Mexico | 75,000 SF | ElectraFloor |
| NASA / Lockheed Martin | Houston TX | 6,000 SF | ESD Epoxy Flooring |
| Banta / Compaq Initiative | Houston, TX | 60,000 SF | ESD Vinyl Tiles |
| Ingram Micro | Mississauga Ontario | 65,000 SF | ESD Vinyl Tile |
| GE Capital I.T.S. | Alpharetta, GA | 78,000 SF | ElectraTile & UltraTough |
| Pueblo County | Pueblo CO | 25,000 SF | ESD Carpeting |
| Defense Construction | Nova Scotia, Canada | 10,000 SF | ESD Carpet |
| AM General | South Bend, IL | 47,000 SF | Heat welded 2' X 2' ESD Tiles |
| Tinker AFB | Oklahoma City OK | 16,500 SF | UltraStatic Control vinyl tiles |
| FAA / TRACON, | Tucson AZ | 32,000 SF | UltraStatic Control Carpet Tiles |
| Elcoteq | Monterey Mexico | 56,000 SF | 12" x 12" vinyl esd tiles |
| General Monitors | Lake Forest, CA | 12,500 SF | UltraStatic Control vinyl tiles |
| CFB (Canadian Forces) | Nova Scotia Canada | 7,000 SF | ESD Carpet |
| Derr Valley Airport | Phoenix, AZ | 1,000 SF | ESD Carpet |
| Rapport Inc | Westminster CO | 1,000 SF | UltraStatic control Tiles |
| FAA | Santa Rosa CA | 1000 SF | |
| Cobe Cardiovascular | Arvada, CO | 5,000 SF | ESD Carpeting |
| Santa Rosa ATC | Santa Rosa, CA | 1,000 SF | ESD Carpeting |
| Argon ST | Lorton VA | 8,000 SF | ESD Epoxy Flooring |
Click to Contact United Static Control Products Inc
© 1996-2023 All rights Reserved
This page last Updated on
04/17/2023
*